Places to Visit near Rishop Kalimpong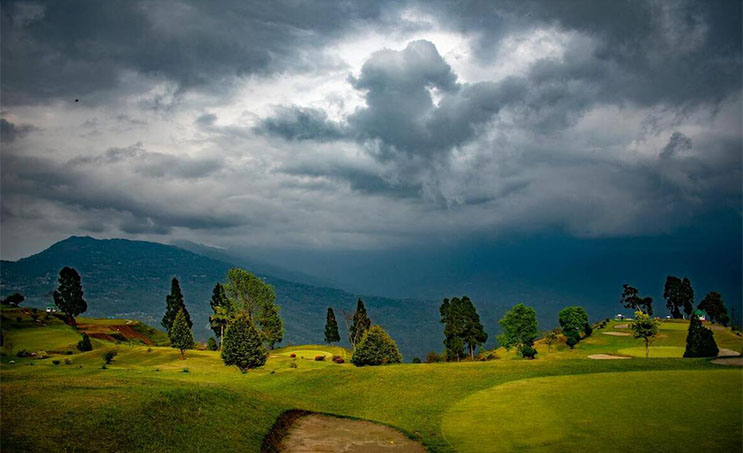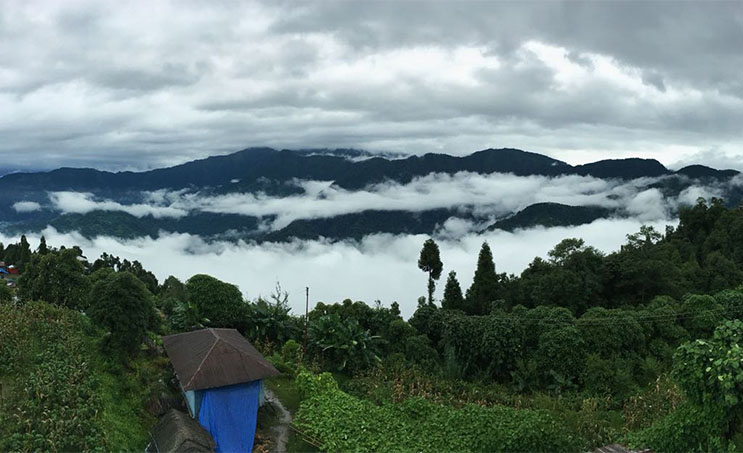 Nestled in the picturesque foothills of Tiffin Dara within the Neora Valley National Park lies the charming village of Rishop. Only a 28km drive from Kalimpong and 11km from Lava, this village can also be reached via a scenic 4km trek from Lava. Surrounded by lush, alpine forests, Rishop is a hidden gem in the tourism scene of Kalimpong. The dense vegetation provides a habitat for a diverse array of flora and fauna, making sightings of wild animals a frequent occurrence. With several nature trails to explore, Rishop's most popular one is the climb to the hilltop of Tiffin Dara. A leisurely 30-45 minute walk through conifer and birch forests leads visitors to the summit, where breathtaking sunrises over the Kanchenjunga range can be seen.
As you trek uphill towards Tiffin Dara, the enchanting melody of exotic Himalayan birds serenades you through the lush forest of the Neora Valley National Park. The nature trails in Rishop are ideal for bird-watching, making it a haven for bird enthusiasts. Sitting at an elevation of 8500ft, the best time to visit Rishop is during the spring months of April and May, when the weather is mild and the valley is ablaze with the vibrant colors of blooming rhododendrons and orchids. Unspoiled by modernization, Rishop is the perfect destination for those seeking to immerse themselves in the tranquility of nature.
Places to Visit near Rishop
Some popular places to visit near Rishop include:
Lava: Located just 12 kilometers from Rishyap, Lava is a secluded hamlet that serves as an ideal sightseeing destination. The hamlet stands at an elevation of 2350 meters above sea level and is surrounded by a lush forest of pine and birch. Visitors can also visit the Lava Monastery, a significant Buddhist religious site.
Tiffin Dara: Tiffin Dara, a popular tourist destination located near Rishop, is renowned for its viewpoint that offers a spectacular 300-degree panorama of some of the most iconic peaks in the Himalayas, including Mount Kanchenjunga, Mount Kharg, Rakhtang, and others.
Lolegaon: Located more than an hour's drive from Lava, Lolegaon is another destination that can be visited from Rishop. Known for its unique flora and fauna, Lolegaon offers visitors a viewpoint where they can take in a panoramic view of the majestic Mt. Kanchenjunga. Another popular attraction in Lolegaon is the Canopy Walk, a suspended walkway through the forest canopy offering scenic views of the surrounding area.
Kolakham: Located at the entry point of Neora Valley National Park, Kolakham is a sleepy and picturesque hamlet situated just 4 kilometers away from Lava. At an elevation of 6500 feet above sea level, the serene environment, surrounded by pine, rhododendron, and oak forest, is one of the major attractions of the area. It's a great place for nature walks, trekking, and bird-watching. The place offers a great break for those looking for peace and tranquility. Remember to check for any restrictions and permissions before visiting.
Neora Valley National Park: Neora Valley National Park, known for its large population of Red Panda, is another prime attraction located near Rishop. This national park spans an area of around 100 acres of forest land and is home to several endangered species of birds and wild animals. It offers an opportunity to witness the diverse and rich biodiversity of the area. It's a perfect destination for wildlife enthusiasts and nature lovers. It is also a great place to go for trekking and camping. Keep in mind that entry and activities in the national park might be restricted, please check with local authorities for updated information and permission.
Best Time to Visit Rishop
The best time to visit Rishop generally falls between the months of February, March, June, September, October, and November, during this time the weather is pleasant, and the sky is clear, making it ideal for sightseeing and outdoor activities. The temperature ranges from 15°C to 20°C which is comfortable for most people. During the monsoon season, heavy rainfall makes trekking and other activities challenging, so it may not be the best time to visit.
For adventure lovers, winter months might be the perfect time to visit Rishop as they can experience the snowfall over here. Note that during the winter season, temperatures can drop to below freezing and the area may receive heavy snowfall, making trekking and other activities difficult. Visitors should be prepared for cold temperatures and bring warm clothes.